If you are visiting this site, then chances are that you or a loved one have been diagnosed with Minicore Myopathy. What I have learned in my personal journey with this disorder, and the people I have met along the way, is that every narrative is different. We might share many similar experiences, but early and lifelong access to quality healthcare, in addition to personality characteristics, mental health, spiritual gifts, and quality of social support all interact with the expressed features of Minicore to provide a prognosis that is unique to each individual. These are the details of my story, and it is my desire that they give you hope.
Born in November, 1986, I was premature by one month. I had contractures in my arms and neck, and I would not eat. Though I do not know specific details, I must have been very sick because they flew me to a children's hospital in another province, and the doctors told my parents I might not survive my first year of life.
I had a partial cleft palate and was deaf as a result of excessive narrowing of my ear canals. These were surgically remedied. At 18 months, a muscle biopsy was performed to determine the cause of my disability, at which point Minicore Myopathy was diagnosed. Throughout childhood I required many interventions, such as speech therapy, physiotherapy, and additional procedures to help me hear. I was not as strong or as fast as my peers, and I walked on my toes because my tendons were very tight, but I met most milestones and did not notice that I was different from the other children until I was older.
For the first five years of my life, I coughed all through the night until I was sick to my stomach. I also had many ear infections and would wake up with blood all through my hair and on my pillow. My mom would stay with me many nights and take me to the hospital when I was very sick. She also engaged me in physiotherapy stretches every chance she had, which felt like every time she held me in her arms. Her efforts ensured I achieved and maintained as much mobility as possible.
My parents were very focused on activity and productivity.
I was not treated any differently because I had Minicore.
I was expected to walk to and from the bus stop every school day, as well as participate in all school activities.
I also had to remain committed to school work and complete regular household chores.
For better or worse, they pushed me beyond my limits, which is likely why I am able to still walk and function independently.
I remember having a happy childhood. I had many friends and we lived on a beautiful street next to the Saint John River where I could swim, scale small cliffs, and climb trees every day of summer. However, as I grew older, I became weaker. I felt ill every time I ate and I struggled to gain weight. By the age of 10, I required multiple interventions. My jaw was too small and overcrowded with teeth. The tubes in my ears needed to be replaced. And I started to show severe scoliosis. Over the course of two years, I had a metal spacer placed in my mouth to widen my jaw; I had many teeth removed and received braces; I had tubes placed in my ears, and my Achilles tendons were surgically lengthened so I could walk normally. When I awoke from the surgery on my legs, I was told that the curves in my spine were crushing my heart and lungs, and that I would need a spinal fusion in the next six months or I might die.
At this point I was very tired.
I felt as if I were caught in a rushing river moving toward a place I did not want to be; I had no control over my body or my privacy.
When you are child, every decision is made for
you, and sometimes it can feel like there is no time to catch your breath or gain a foothold before you are ushered into the next scary event.
I remember praying every day that God would heal my body, and I remember promising Him that I would be a living testimony if He provided such a miracle.
In those months leading to my scoliosis surgery, I became more angry and depressed, and my ability to feel things was disjointed.
I once found a Swiss army knife left behind by my brother's friend and I cut my arm with it many times.
Seeing the blood and experiencing the sting, I felt nothing but empty.
My spine surgery was very painful. They secured a 12″ rod to my spine and fused my vertebrae with bone grafted from my hip. Several nerves were severed, which resulted in unusual side effects. I lost all physical sensation to the left of my scar, all the way to the fingertips of my left hand. My pupils also became dissimilar in size, and the irises turned different colours so that one eye was brown and the other green. These effects lasted four to five years.
The years following my spinal surgery were very difficult.
I experienced chronic pain and struggled every day with eating, as meals made me lethargic and ill.
I hated my body because my spine and frame were still
curved, twisting my ribs and causing one side of my chest to collapse in appearance; I also had ugly red scars from my surgeries and still walked with my feet sticking out like a duck.
I did everything I could to try to hide my flaws under layers of clothes and make-up.
In their concern for my health, my parents drew attention to my physical deformities almost every day. They would tell me to straighten the heels of my feet, make my right shoulder level with my left, and keep my head up straight; they would also ask each day what I ate, how many calories I had consumed, how much I weighed, and when the last time was that I weighed myself. I knew their concerns were rooted in their love for me, but these conversations reminded me how different I was; it forced my focus to remain on what was wrong instead of what was right; and it conveyed that I was not doing enough to fix myself. To keep up with school and housework and be expected to perform as if I had no disability, yet remind me in almost every interaction that I was disabled, broke my heart. It also made me self-conscious in my every movement as I willfully held every contorted body part in place so others did not feel uncomfortable when they looked at me, and also so my parents would not correct me. I was exhausted and felt less than human.
For several years it felt like my family and I were fighting every day. At the age of 14, I remember emptying the dishwasher after a fight and becoming emotionally stuck on a steak knife I held in my hand. I cut myself with that knife, which began a long history of self-harm to cope with the stress. Despite the tension with my family, my physical pain, and my depression, I remember God clearly telling me to do three things: get married, become a psychologist, and stand on Africa. I was not certain if any of these ambitions would be realized, but they gave me something to work toward so that my life did not stagnate in anger. I worked hard at school and I volunteered summers at the local hospitals and nursing homes. When I was 17, I was very malnourished and knew that my body was dying. At that time, I was admitted to the hospital for a severe lung infection and the doctors confirmed my concerns. They performed tests to discern why I experienced so much discomfort when I ate, and why I could not gain weight. When the tests came back negative, they diagnosed me with Anorexia Nervosa and determined that my problems were of a psychological nature. Although I, and my family, knew this diagnosis was inaccurate, I still worked with the specialists. They suggested that I drink meal replacement shakes, and so I drank up to six a day and also ate regular meals.
Over the span of eight months, leading into my senior year of high school, everything changed. I reached a healthy weight. I felt stronger than I had ever been. I also felt prettier and looked healthy, and my parents were less stressed over my health. The next years included a great deal of physical and emotional healing. I graduated high school and began university. During my undergrad my brother suggested that I be tested for celiac disease, as he had received a recent similar diagnosis. I agreed. The test showed that I was, indeed, celiac, which is why all of the cakes and cookies and pasta my doctors suggested I eat to gain weight made me so sick. After changing my diet, I started to enjoy food for the first time in my life.
I graduated my BA with a 4.0 GPA, achieving an Honours in psychology and receiving several awards for my thesis.
Near the end of my undergrad, I met on an Internet dating site the man who is now my husband.
God impressed upon our hearts to marry and so we dated intentionally, planning our wedding for just after I graduated.
A week before our wedding, I received an acceptance letter to complete an MA in clinical
psychology.
I also received a competitive scholarship to conduct research while in graduate school.
So, as newlyweds, my husband and I packed our few belongings and moved halfway across Canada to begin our new life together.
Now, the life I share with my husband is filled with joy. Despite the anger I had at God, and my inability to understand the future He had planned for me, I remained faithful to His calling. I did not always honour my parents, I have many scars from self-inflicted wounds, and my spirit was at times both bitter and resentful, but I put one foot in front of the other to follow the God I believed loved me. In the four years that I have been married, my husband and I have wanted for nothing that was not provided. He has had steady work to pay our bills; I was able to finish my MA degree and am now completing a PhD in Psychological Science; and we recently bought a beautiful home.
I still struggle physically with fatigue and pain. I have degeneration and arthritis in my joints, and I am losing both strength and mobility in my legs, but the life I have now overflows with meaning and hope.
I trust, now, that God will fulfill all of His promises.
I have experienced reconciliation with my family; I am
married to a wonderful man who tells me every day that I am beautiful and sexy; and I am only a few years from achieving status as a psychologist.
I am not sure when or why I will someday stand on Africa, but I know that traveling so far from first-world amenities will force me to rely on God in ways that I have never before needed.
When the time comes, it will be a great and revealing adventure.


There are many personal lessons I could share, but I will stick to what I consider the most important: (1) However far in life you think you can go on your own, Christ's love and God's power can take you much farther; (2) a bad attitude can be more disabling than most physical limitations; and (3) your full potential cannot be reached without adversity (e.g., you will never know the depths of strength and character you can have until you are pushed beyond your limits).
I am exceptionally grateful for the challenges I have faced, but (as I stated in the beginning of this narrative) every journey with Minicore will be different. Some will struggle more than others, but your perception of those obstacles, as well as your attitude, will ultimately determine your quality of life. This is true for every person, whether or not he/she is physically compromised.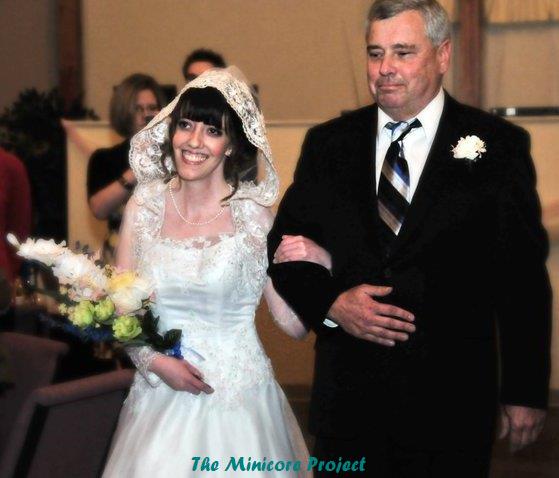 Thank you so much for reading, and I wish you many blessings in your own journey!

~For I know the plans I have for you," declares the Lord, "plans to prosper you and not to harm you, plans to give you hope and a future. –Jeremiah 29:11~