It is EXTREMELY IMPORTANT that those newly diagnosed know that if they are affected by the RYR1 gene mutation in Minicore Myopathy, that they are at HIGH RISK of developing an often fatal reaction under General Anesthesia! To be absolutely SAFE specialists in Minicore Myopathy recommend that if you have the diagnosis of Minicore Myopathy in general, anesthesiologists should filter out the triggering agents in the anesthetic prior to surgery as a precaution.
What is Malignant Hyperthermia?
Malignant Hyperthermia is a condition that can be passed down family members as a sole disease or is a secondary condition to Neuromuscular Diseases (specifically Minicore Myopathy and Central Core Disease).
MH causes a rapid rise in body temperature (fever) and severe muscle contractions in affected persons when being put under General Anesthesia for surgeries OR during strenious exercise/hot environment and under stressful circumstances.
Symptoms include:
Bleeding

Dark brown urine

Muscle ache without an obvious cause, such as exercise or injury

Muscle Rigidity and stiffness

Quick rise in body temperature to 105 degrees F/ 40 degrees C or higher

Fast and/ irregular heart rate
MH Under General anesthesia
Malignant Hyperthermia is usually discovered AFTER the General Anesthesia has been administed during surgery. There may be a family history of MH/Minicore Myopathy or an unexplained death while under going surgery. Or in near 50% of cases, no family history of muscle disease/MH suseptibility AT ALL.
Tests That Determine MH
Blood clotting studies (PT, or prothombin time; PTT, or partial thrombloplastin time)

Chem-20, including CPK (creatinine phosphokinase, a muscle protein destroyed during acute illness)

Genetic defeats to look for RYR1 gene mutations

Muscle Biopsy

Urine Myoglobin (muscle protein) determination
During an episode of MH, wrapping the patient in a cooling blanket can reduce fever and the risk of serious complications from such a high body temperature. Drugs such as DANTROLENE, LIDOCAINE, or a beta-blocker drug can help with heart rhythem problems. To preserve kidney function during episodes, you MUST get IV fluids in aswell as by mouth, as well as certain medications.

REPEATED EPISODES OR UNTREATED EPISODES CAN CAUSE KIDNEY FAILURE AND/ DEATH!

What is "Awake" Malignant hyperthermia?
*AWAKE* MH refers to Malignant Hyperthermia that is NOT triggered by anesthetic agents. Occuring during day to day activities. Unfortunitely the *AWAKE* type of MH is not well known. There are only a few websites that mention it and some Drs have never heard of it. Again, this means the affected individual and their family become the "experts" on how to manage and treat a suspected on coming episode. Avoiding the situations that can trigger an attack and preparing for hot climates can literally save the persons life!
Situations That MAY Bring On "Awake" MH
Strenious exercise

. Now it's important to remember that a person with a muscle disease works TEN times harder during physical activity that an unaffected person. So what may seem light exercise for able-bodied person will actually be strenious for a person with Minicore. It's upto your own judgement to determine the right balance of just enough exercise and knowing when to STOP and call it a day.

Hot Climates.

Even in countries like England where it's mostly raining - when we do get our 2 weeks of hot weather it can take alot out of someone with Minicore. It's important to be prepared with portable fans, having lots of water on hand and use spray bottles and cooling blankets to keep your temperature down. If you live in a country that is mostly hot OR intend on going on holiday it is important to plan ahead. Make sure there is air conditioning and plenty of fluids available.

Stress

. This is the hardest trigger to control. We don't know often when stressful circumstances will arise. Often they are strung on us. If stress CAN be avoided say eg. giving more workload to a colleage or family/friend to give you a break then it's important to take that option. If it CAN NOT be avoided despite how stressful the situation you must remember to have regular fluid and keep cool.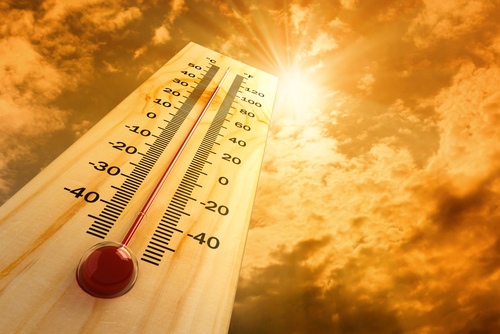 WHEN TO INFORM MEDICAL PROFESSIONALS
IF YOU HAVE MINICORE MYOPATHY/HIGH RISK OF MALIGNANT HYPERTHERMIA, ALWAYS TELL YOUR MEDICAL TEAM AND ANESTHESIOLOGISTS PRIOR TO SURGERY AT THE PRE-OP AND REMINDING THEM AGAIN DIRECTLY BEFORE ENTERING THEATRE.

IF A CHILD IS AFFECTED INFORM THE SCHOOL, PHYSICAL THERAPISTS, OCCUPATIONAL THERAPISTS AND ANYBODY ELSE INVOLVED IN EXERCISE/SITUATIONS THAT MAY CAUSE THE BODY TO SWEAT/OVERHEAT TO MINIMALIZE *AWAKE* MH EPISODES.

IT IS IMPORTANT YOU CONSIDER BOTH MH WHILE UNDER GENERAL ANESTHESIA AND *AWAKE* EPISODES WHEN PLANNING HOLIDAYS. MAKE SURE YOU TAKE ITEMS TO HELP COOL DOWN THE INDIVIDUAL IF THEY APPEAR OVERHEATED AND MAKE SURE TRAVEL INSURANCE WILL COVER A MALIGNANT HYPERTHERIA REACTION, OTHERWISE IN THE UNFORTUNITE EVENT IT DOES HAPPEN YOU ARE LIKELY TO GET A HUGE MEDICAL BILL ASWELL
If you have any further questions or need more information of patients suseptibility with Minicore Myopathy & Malignant Hyperthermia please don't hesitate to