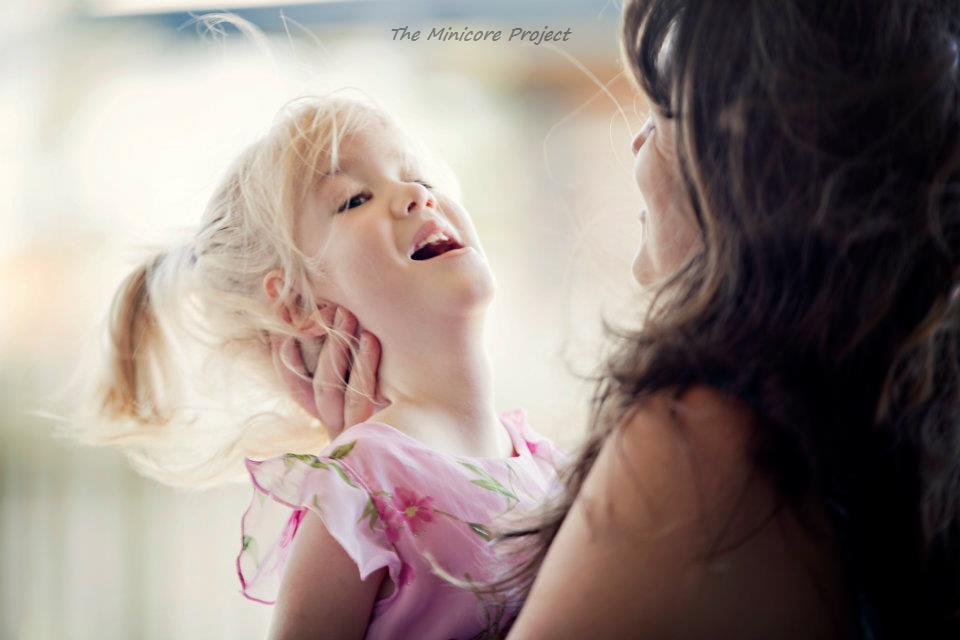 Meet Karlia Craig and her devoted Mum Coraley from Mackay, Austalia. Karlia is a bright and bubbly 5 year old who loves anything Peppa Pig, DVDs and playing on her iPad. She's cheeky and captures the hearts of all that come in contact with her.
When Karlia was just 2 years old she was diagnosed with the rare muscle weakening and wasting condition Minicore Myopathy with several secondary conditions including....
Arthrogryposis Multiplex Congenita, Hypotonia, Scoliosis, Club Feet and Opthlamoplegia. Being diagnosed with a life long incurable condition is bad enough, but it's even worse when you discover during this difficult time that there is little to no information and no support network. Karlia has spent since birth in and out of hospital (mostly in ICU) with pneumonias and collapsed lungs. Life threatening situations for those with muscle diseases. "Drs kept telling me now was time to let my daughter go," said Mum, Coraley. "Yet I knew deep down it wasn't time. She had fight left in her. I demanded they did whatever it took to get her through. This situation has happened more times than I care to remember. She gets ill so quickly, goes downhill so fast and next thing I'm next to my daughter wired up in ICU being told to let her go all over again. But 5 years later...my brave daughter is still here."
Diagnosis was just the beginning of the deadend of Drs telling a devasted Mother that there was nothing they could do. Karlia was going to die. Little support was given to Coraley to care for her at home. As Karlia grew into a toddler she had to fight for equipment such as a supportive seat and electric bed. Drs had anticipated for her to die in infancy so hadn't banked on getting funding for equipment for a special needs child. Eventually Coraley managed to get Drs to agree to correct Karlias clubfeet by surgery and casting. A long painful process but with good results. It gave them hope for the future. Karlia started Occupational and Speech therapy. Learnt how to grip crayons and pens (arthrogryposis made this difficult) and learnt to use a picture chart to communicate while her speech improved slowly.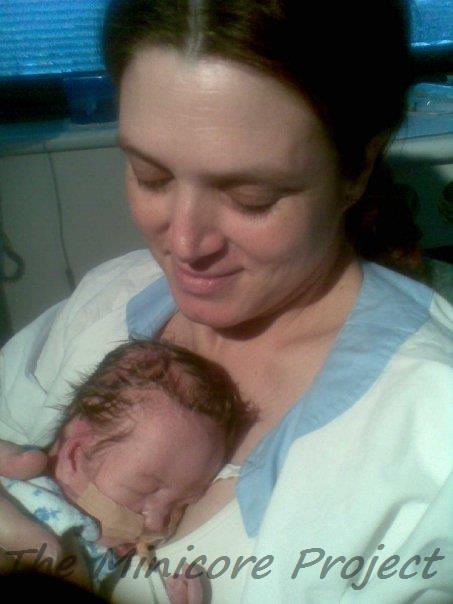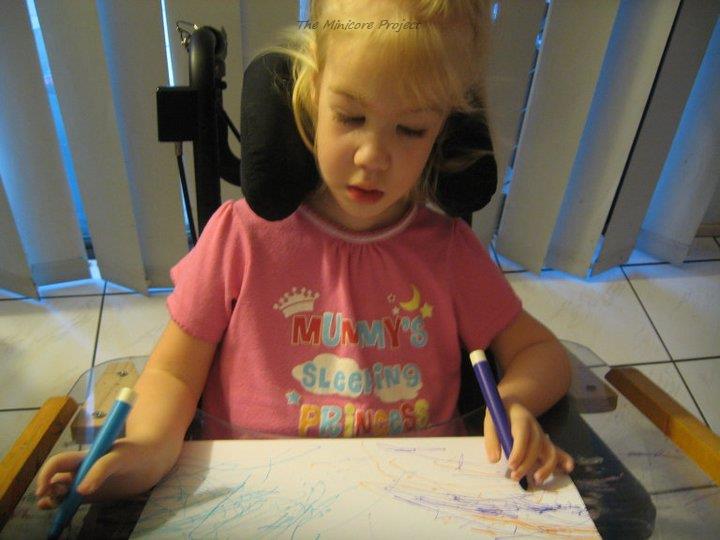 So against the odds not only was Karlia still here but she was thriving with the right support. Living proof of how important supporting children with Minicore Myopathy is.
Therapists worked with Coraley and Karlia on improving head control and using a standing frame to practise weight bearing. Karlia also had a G-tube inserted as her soul source of nutrition, although she does occasionally manage
a yogurt by mouth. Drs have to watch carefully incase Karlia aspirates her food into her lungs which can cause pneumonia.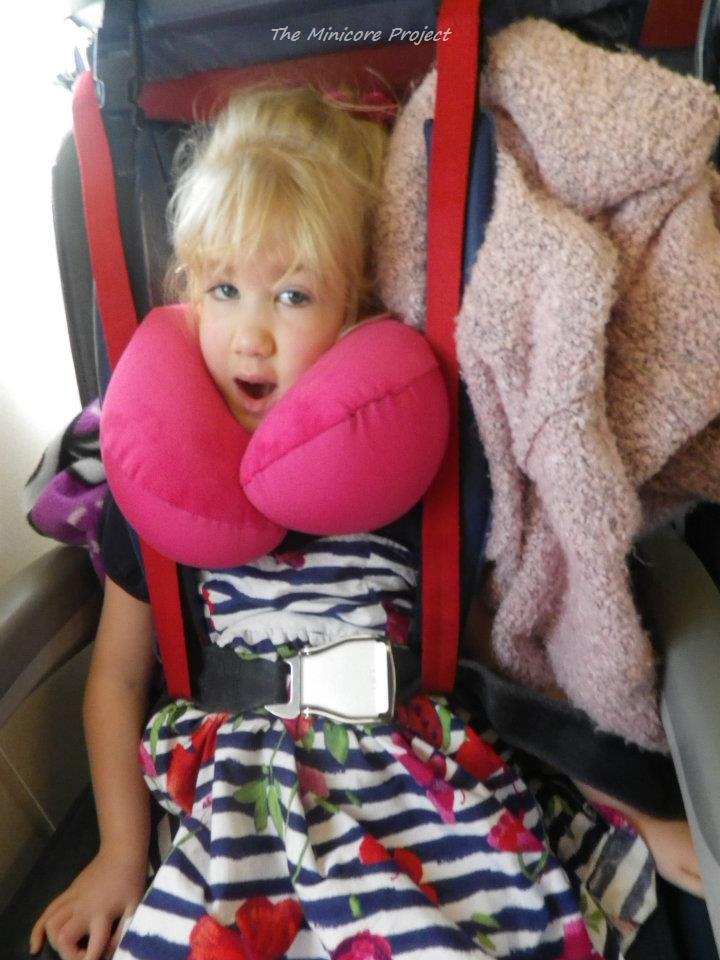 Karlia is overseen by several different specialists at the Children's Hospital in Brisbane. To get there Coraley has to get Karlia on a plane. Due to Karlia's Hypotonia and Scoliosis she has to use pillows and towels to prop her up in a standard plane seat. They try to get to be seen by multiple teams on the same day as the journey causes Karlia alot of fatigue and pain. Though it's not always possible.
One of Karlia's current biggest medical issues is her progressive Scoliosis. For several years now Drs in Brisbane has outright refused to offer Karlia life saving surgery to insert "growing rods" that won't only straighten her spine but will improve her breathing meaning less pneumonias. The arguement with the specialist Drs is they
believe Karlia's lungs are too weak to survive the spinal surgery. Yet the longer they leave it, the longer they debate if she will survive or not, lessens her chances even more as the Scoliosis progresses. Eventually if left, the progressive nature of Scoliosis in severe cases of Minicore Myopathy will mean her spinal curvature will eventually compress her heart and lungs. Karlia's back is already causing her alot of pain and because she is wheelchair bound the pressure as weight only going through one side of her body has pushed her hip out it's socket. Coraley tells me, "I cannot get through to them they cannot just leave it to kill her. They won't listen to me." The Minicore Project members have offered contact details to specialists in the USA and UK where Karlia woud have a better chance of getting the surgery she needs to survive. But none will say yes to surgery without physically seeing and examining her. Coraley hasn't got the funds or means to get Karlia abroad for a consultation. We are currently trying to raise funds for Coraley to be able to take Karlia abroad for that much needed 2nd opinion. Karlia would need to fly 1st class so she can lie down as she can only sit upright for a few hours, accomidation and any medical bills will need to be covered too. As a patient run organization we cannot help fund such things without outside help. If YOU think you can help us get sweet Miss Karlia that 2nd opinion please see the donation details to the right of this page!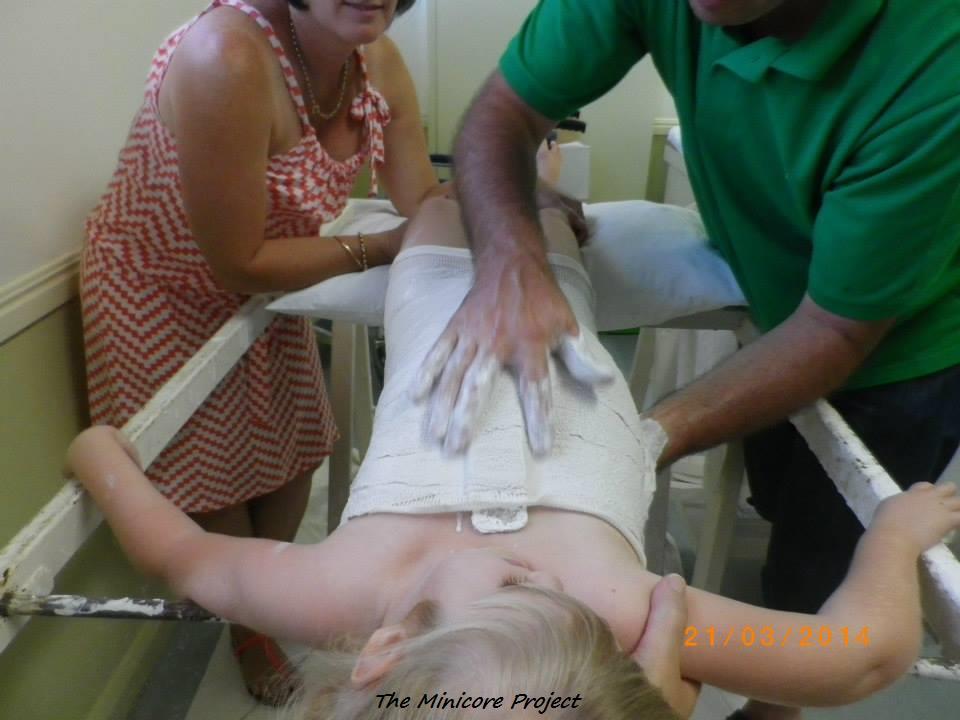 Update April 2014:
After years of Mum fighting for Drs to do something for her Scoliosis, they've finally agreed to AT LEAST try a back brace. This method to "slow down" the progression in the curve is not recommended in the UK and some other countries as it can compromise breathing in patients with muscle disease. But as this is the only chance to slow down her curve in hopes to get enough money to have surgery elsewhere or better yet,
if Brisbane Children's Hospital changes there minds.and decides to do the surgery. They're planning to cut out the chest area to allow her lungs to expand and the area for her G-tube button.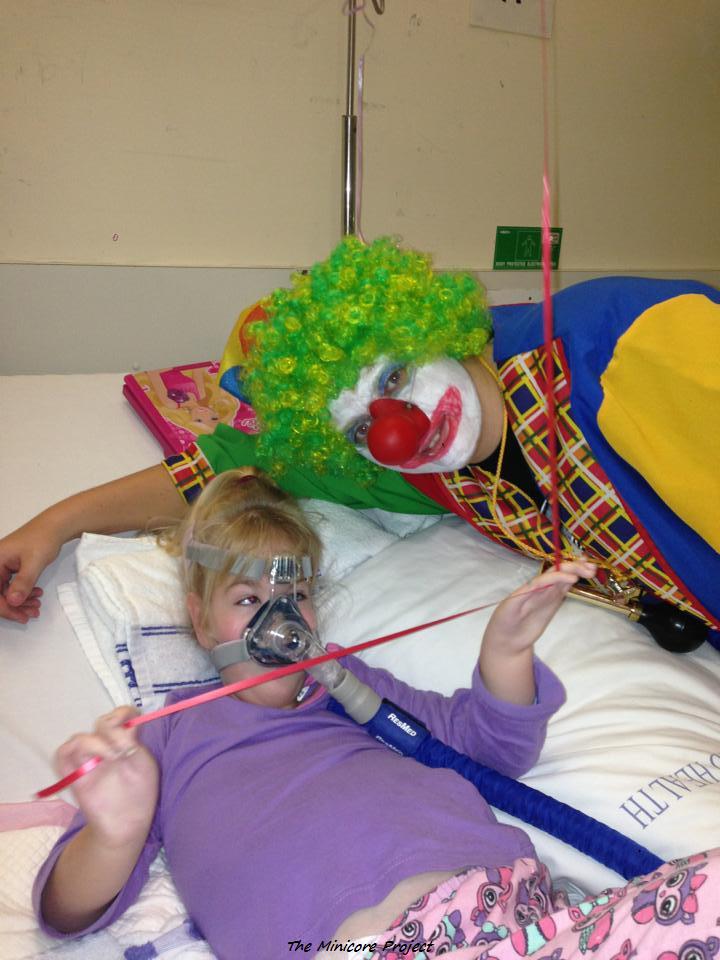 Karlia is still in and out of hospital often with chest infections. She is well known on the wards and has her favourite nurses. Mum says, "You know when Karlia's not well at all when she actually asks for her BiPAP (type of non-invasive ventilator) to be put on. That's when I worry most. On the flip side I know she's on the mend when she starts being demanding, wanting her DVDs and being her cheeky old self."
"She's started to learn how to use her electric wheelchair more. I took her out to the mall the other day in it and she sped off and I had to go chasing after her! She's so free in it she knows no limits. I've got dents all over the house from her ambitious adventures trying to get to things herself. The fact she's still here with us and gaining independence is something I thought we'd never see."