What is Antenatal Arthrogryposis Multiplex Congenita

form of Minicore Myopat

hy?
Lets break it up and simplify it. Antenatal = meaning in the womb stage of developement, Arthrogryposis = meaning joint contractures, Multiplex = involving several joints and finally Congenita = meaning the contractures were visible at birth.
Arthrogryposis Multiplex Congenita is a collective term applied to a very large number of different syndromes characterised by non-progressive, multiple joint contractures present at birth. The joints usually develop normally in early embryonic life but, as gestation progresses, movements are required to facilitate normal development. Where there are abnormalities that prevent this from occurring (eg. muscle weakness in Minicore Myopathy), or neurological or connective-tissue disorders or physical restriction, the condition forms. The muscles involved are partially or completely replaced by fat and fibrous tissue.

That is the "medical" definition. In English that's saying while baby was in the womb the muscle weakness from Minicore Myopathy caused lack of movement and therefore Contractures formed in some/many joints. The most common contracture points are elbows, hips, shoulders, knees and sometimes wrists and ankles. When Contractures occur it means the joint cannot be stretched, it only goes so far or is completely locked in a bent/contracted position.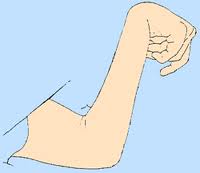 (fig. 1 - contracture of the elbow, wrist and fingers)
What can we do about it?
Physical therapy is one of the most common treatments for contractures. It helps to increase your range of motion and strengthen your muscles. Physical therapy sessions require regular attendance for best results. Your physical therapist may also show you exercises to do at home.

IT IS EXTREMELY IMPORTANT THAT YOUR THERAPIST KNOWS NOT TO STRETCH THE CONTRACTURE TO THE POINT IT CAUSES PAIN. THIS CAN DAMAGE THE JOINT AND MUSCLE. REGULAR GENTLE STRETCHES WITH MINIMAL PRESSURE IS BEST.
Devices

You may need to wear a cast or a splint to help stretch the tissues near the problem area. A continuous passive motion (CPM) machine may be used to keep the affected part of your body moving. A wheelchair may be necessary if your ability to move is very limited.
Surgery maybe required to lengthen tightened tendons and ligaments to regain range of motion and proper positioning in the affected joint. This type of surgery usually involves casting for weeks/months after depending on the severity. Many Minicore patients have undergone this type of surgery and it being a success. Some long term numbness is normal but the pro's increase independance outway the con's in most cases. Physical therapy is important to maintain afterwards for best results.

Consequences of Forgoing Treatment
Delaying or forgoing treatment may make it difficult or impossible to regain your range of motion. Depending on the area of your body that is affected, stiff muscles, joints, and skin can interfere with performing everyday tasks at home and work.
People with diseases that are muscle related like Minicore Myopathy should be under continual medical care to ensure their best outcomes.
Contractures That Were NOT Present At Birth Management
90% of people with Neuromuscular Conditions that have mobility problems are prone to developing contractures even if they weren't present at birth. Once a specialist notes a contracture is present it is protocol to be referred to receive Physical Therapy. PT can help improve the joint contracture before it gets too severe that it affects daily life skills. It can also help stop it getting worse. PTs can give you exercises to do at home daily. It is important to know if contractures are left and not treated they will progress and it can become very restricting. Some individuals with Minicore Myopathy who are wheelchair dependant develope significant hip and knee contractures despite PT as they are seated all the time. If you are a wheelchair user it also helps to lie as straight as you can on a bed/sofa to stretch out. Balance time in and out of a seated position.
If you need further advice on AMC or Contractures please don't hesitate to Contact Us